Materials Science Week 2019
About Conference
About Conference
EuroSciCon invites all the global participants to 2nd Edition of International Materials Science and Engineering Week during September 9-10 2019, Sydney, Australia, which includes prompt keynote presentations, Oral talks, Poster presentations and Exhibitions.
Materials Science Week 2019 provides a perfect symposium for scientists, engineers, directors of companies and students in the field of Materials science, Physics, Chemistry and Structural Biology to meet and share their knowledge. The theme of the conference is "Peering deep into Materials with technological engineering". The scientific program paves a way to gather visionaries through the research talks and presentations and put forward many thought provoking strategies. It provides a premier technical forum for reporting and learning about the latest research and development, as well as for launching new applications and technologies. Materials Science and Engineering Week is a premier forum to showcase the latest results in the science and technology of materials, with an emphasis on the combination of advance researches as well fundamental physical and chemical concepts to applied research focusing on the next generation material science devices.
Maximize your personal involvement, engagement by getting together on September 9-10, 2019 with interactive discussions and workshops at the conference, you will feel free to reach out and share your thoughts to continue your lifelong learning and build on the skills that make you successful.
Target Audience:
Eminent Scientists from Materials Science
Material Science Research Professors
Junior/Senior research fellows from Universities
Directors of companies of Science and Technologies
Members of different Materials science associations
Top Managers (CEOs, CMOs, Vice-Presidents, Directors, GMs)
Practitioners (Brand Specialists, Heads of Marketing)
PhD students
MBA/ M.Sc. Student
Sessions and Tracks
Track Description
Track 1: Material Science and engineering
Through the recent advances in the world, Scientists and Engineers who devote their time in working in the field of material science can now understand how materials work and can create new materials for new applications as well as develop existing materials to improve performance. Starting from the atomic level up, we can now control the structure of a material, for example, strength can now be tailored or manipulated to suit a particular application. Understanding the scientific properties of materials, the engineering performance of materials and materials processing, allows us to improve existing materials and discover or create new materials.
Structure
Classification
Semiconductors
Metal alloys
Synthesis and processing
Modern materials and manufacturing process
Coatings, surfaces and membranes
Fundamentals of thermodynamic modelling of materials
Track 2: Smart Materials and Sustainable Technologies
Smart materials are those materials which have properties to react to changes in their environment. This means that one of their properties can be changed by an external condition such as light, pressure, temperature. So Smart Materials are defined as "Materials that can significantly change their mechanical, thermal, optical, or electromagnetic properties, in a predictable or controllable manner in response to their environment" as there are many possibilities for such materials and structures in the manmade world many innovations are happening in the field of material science that are enough smart to help human beings in an any of the ways like structural health monitoring, self-repair, defence and Space, Nuclear Industries, Reducing wastes. Smart materials also have many applications in different fields of medicine and engineering and the rise in demand for the smart materials is enough to believe that there is a great scope for the smart materials in the future.Modelling, Simulation and Control of Smart Materials
Integrated System Design and Implementation
Shape-Memory Alloys and Phase Change Materials
Electroluminescent and Electrochromic Materials
CMOS-MEMS
Polymer-based Smart Materials
Smart Design and Construction
Sustainable Engineering and Energy Technology
Track 3: Nano Materials and Nanotechnology
Nanomaterials are not simply another step in the miniaturization of materials or particles. They often require very different production approaches. There are several processes to create various sizes of nanomaterials, classified as 'top-down' and 'bottom-up'. Although large numbers of nanomaterial are currently at the laboratory stage of manufacture, many of them already are being commercialized whereas Nanotechnology, as defined by size, is naturally very broad, including fields of science as diverse as surface science, organic chemistry, molecular biology, semiconductor physics, energy storage, microfabrication, molecular engineering, etc. The associated research and applications are equally diverse, ranging from extensions of conventional device physics to completely new approaches based upon molecular self-assembly, from developing new materials with dimensions on the Nanoscale to direct control of matter on the atomic scale.
Nanotechnology in materials science
Application of Nanotechnology
Advanced Nanomaterials
Nanostructures and Nanofabrication
NanoRobotics
Mechanical application of Nanotechnology
Nanotechnology in energy
Nanotech products
Nanotechnology in communications & Information Technology
Track 4: Advanced Materials and Devices
All materials that represent advances over the traditional materials that have been used for hundreds or even thousands of years. From this perspective, advanced materials refer to all new materials and modifications to existing materials to obtain superior performance in one or more characteristics that are critical for the application under consideration. They can also exhibit completely novel properties. Advanced materials typically have properties that are superior to and outperform conventional materials in their applications. The development of advanced materials is associated with the generation of new knowledge and intellectual property (IP). The development of advanced materials can even lead to the design of completely new products. Advanced materials may also be remarkably adaptable.
Metallic materials and polymers
Advanced 2D and 3D materials
Elastomers and thermoplastic elastomers
Advances in instrumentation technology
Smart materials and other advanced materials
Track 5: Energy Materials and Fuel cells
In the search for alternative energy sources, we need to make new discoveries in materials science. We need catalysts to convert feedstocks into fuels, new architectures for better solar cells and materials for advanced energy storage, including lithium batteries. New high-tech materials are key to breakthroughs in biology, the environment, nuclear energy, transportation and national security. Energy Materials is making revolutionary advances in the science of materials discovery and synthesis. Our ultimate goal is to be able to design new materials with useful properties—one atom at a time. Whereas the 19th century was the century of the steam engine and the 20th century was the century of the internal combustion engine, it is likely that the 21st century will be the century of the fuel cell. Fuel cells are now on the verge of being introduced commercially, revolutionizing the way we presently produce power. Fuel cells can use hydrogen as a fuel, offering the prospect of supplying the world with clean, sustainable electrical power. This Track discusses the history of fuel cells, fuel cells for NASA, alkaline fuel cells for terrestrial applications and PEM fuel cells. Fuel cell applications in transportation, distributed power generation, residential and portable power are discussed. The science of the PEM fuel cell and the direct methanol fuel cell will be discussed.
Hydrogen Energy and Fuel Cell technology
Solar Energy Materials
Polymer Energy Materials
Crystalline Porous Materials
Catalysis and Energy Materials
Advanced Graphene & 2D Materials
Batteries and Solid Electrolyte Materials
Energy Harvesting Materials
Emerging Technologies for Energy Applications
Track 6: Crystallography and Spectroscopy
Crystallography, branch of science that deals with discerning the arrangement and bonding of atoms in crystalline solids and with the geometric structure of crystal lattices. Classically, the optical properties of crystals were of value in mineralogy and chemistry for the identification of substances. Modern crystallography is largely based on the analysis of the diffraction of X-rays by crystals acting as optical gratings. Using X-ray crystallography, chemists are able to determine the internal structures and bonding arrangements of minerals and molecules, including the structures of large complex molecules, such as proteins and DNA. However there is another field of science which can be used alongside Crystallography: Spectroscopy, a study of the absorption and emission of light and other radiation by matter, as related to the dependence of these processes on the wavelength of the radiation. More recently, the definition has been expanded to include the study of the interactions between particles.
Advanced Chemical Crystallography
Crystallography of Novel Materials
X-Ray Crystallography
Crystal Growth
NMR crystallography
Spectroscopy
Advances in Neutron Diffraction
Biological Structure Determination
Crystal Engineering
Crystallography and Spectroscopy Applications
Track 7: Carbon Materials and structures
Graphenated Carbon Nanotubes are a new hybrid that combines graphitic foliates grown with sidewalls of bamboo style CNTs. It has a high surface area with a 3D framework of CNTs coupled with high edge density of graphene. Chemical modification of carbon nanotubes are covalent and non-covalent modifications due to their hydrophobic nature and improve adhesion to a bulk polymer through chemical attachment. Applications of the carbon nanotubes are composite fibre, cranks, baseball bats, Microscope probes, tissue engineering, energy storage, super capacitor etc. Nanotubes are categorized as single-walled and multi-walled nanotubes with related structures.
Graphene
Carbon Nanotubes
Nanostructures
Graphene Synthesis
Diamond and 2D Materials
Carbon Nanochips
Application of Carbon in energy
Carbon Modification and Functionalization
Track 8: Nuclear Materials and Radiation
Nuclear materials most commonly refer to fissile materials that are capable of sustaining a chain reaction in a process that releases energy called nuclear fission. The materials include isotopes of uranium, thorium, and plutonium. These materials are distinct from radiological materials like cobalt and caesium, which are used for a variety of civilian purposes, including medical procedures. The nuclear materials most commonly used for nuclear energy and nuclear weapons are uranium and plutonium in various forms.
Thermodynamics and Thermal Properties of Nuclear Fuels
Structural and Functional Materials for Fission and Fusion Reactors
Modelling and Simulation of Nuclear Fuels
The behaviour of Materials during Severe Accidents and Accident Tolerant Fuels
Radiation Damage Processes in Materials and Complex Microstructures
Characterization of Irradiated Materials and Nuclear Fuels Materials for the Nuclear Fuel Cycle
Nuclear Chain Reactions
Radiology
Track 9: Bio Materials and Bio Sensors
Biomaterials are non-viable materials that can be implanted to replace or repair missing tissue. They may be of natural origin or synthesized in a laboratory. When used in a medical application, biomaterials can be implanted to replace or repair missing tissue. Biomaterials, such as bone substitutes and collagen membranes, are used regularly in regenerative dentistry as well as for bone and cartilage regeneration in orthopaedics. The introduction of biosensors has emerged since it provides a miniaturized approach to solve the problems related to sensitivity, rapidity, selectivity, and high cost which the ELISA or the previously used genomic and proteomic-based conventional methodologies involved. A major advantage of a biosensor is to reduce the complexities faced by a common man offering them a point-of-care medical device for personalised diagnosis.
Bio-Medicine
Tissue Engineering
BioDevices and fabrication
Nanomedical devices
Nanotechnology for the biological system
Biomaterials for Energy production
Track 10: Ceramics and Composite materials
Ceramic engineering is a branch of engineering which deals with the science and technology of creating an object from inorganic and non-metallic materials. It can be used in various industries. Ceramic engineering combines principles of chemistry, physics and engineering. Fibre-optic devices, microprocessors and solar panels are some examples of ceramic sciences applied to everyday life. As the applications of Ceramic material are expanded tremendously due to the recent advances in the field of medicine which include bio-ceramics and other, ceramic engineering is a booming field. Ceramics being a multi-billion dollar a year industry, ceramic engineering and research is an established field of science. Ceramics play an important in our day to day life; some of the items that include ceramic are glass light bulbs, jet engines, computers, cars and many household appliances. Ceramics used in Medicine, Construction, Electronics, Military, Optical fibres, Sports, Airplane, Transportation.
Ceramic Engineering
Composite Materials
Glass Engineering and Science
Surface Engineering and Ceramic Coating
Optical ceramics and devices
Ceramics in Biology and Medicine
Bio Ceramics and Medical Applications
Track 11: Optical Materials
Optical Materials used for the transfer of light by the means that of reflective, absorbing, focusing or splitting of an optical beam. The result of those materials is very dependent on the various wavelengths. A wide range of researches was conducted and leads to the development of lasers, thermal emission, photo-conductivity and optical fibres etc.
Lenses, Lasers and Holography
Modelling and design of optical systems using physical optics
Opto-Acoustic Materials
Optical Nano-Structures
Optical Sensors
Photonic Crystals
Modern Optical devices
Integrated Photonics, Silicon, and Nano-Photonics
Nonlinear Photonics
Novel Optical Materials and Applications
Signal Processing in Photonic Communications
Specialty Optical Fibres
Track 12: Electronic and Magnetic Materials
Electronic Materials are materials studied and used principally for his or her electrical properties. The electrical response of materials mostly stems from the dynamics of electrons, and their interaction with atoms and molecules. a material will be classified as a conductor, semiconductor or material consistent with its response to associate degree external force field. Magnetic Materials is classified as belonging to at least one of 3 classes, counting on their magnetic properties. Paramagnetic and Ferromagnetic materials are those manufactured from atoms that have permanent magnetic moments. Dia Magnetic materials are those manufactured from atoms that don't have permanent magnetic moments. Magnets can powerfully attract ferromagnetic materials, infirm attract paramagnetic materials, and infirm repel diamagnetic materials. Ferromagnetic materials have the most magnetic uses. The most sensible use for diamagnetic materials is in magnetic levitation.
Electronic Packaging
Nanoelectronic and magnetic devices
High-temperature Superconductivity
Superconductivity
Magnetic Measurements
Magneto-Photonic Crystals
Multiferroic Nanoparticles
Track 13: Materials Chemistry
Materials Chemistry directs towards the architecture and amalgamation of materials of higher potential, using the concepts of Physical chemistry. These materials carry magnetic, electronic, catalytic or organic uniqueness. These inventions led to the development of upgraded fabrication techniques. Structure plays an essential role in this stream. The materials have different types of structures, beginning from the atomic level to the macro level. They include organic structures and electronic bonded structures as well. The strength of bond and structure depend on the molecular mechanics of atoms and bonds related
Nano Chemistry
Materials Chemistry in Developing Areas
Materials Synthesis and Characterization
Analytical Techniques and Instrumentation in Materials Chemistry
Organic and Inorganic Materials Chemistry
Applied Materials Chemistry
Track 14: Materials Physics
Materials physics is a vital field whose outcome leads to many advantages in fundamental physics. The main attention of materials physics is towards solid mechanics, biomaterials and structured materials. It helps in understanding the physical behaviour of nearly perfect single crystals of elements, single compounds and alloys. Novel research strategies help to analyse the synthesized models of materials systems.
Nanophysics
Solid Mechanics
Condensed Matter Physics
Theoretical and Experimental Study of Soft Matter
Theoretical Physics
Meta Materials and Magnetic Materials
Quantum and High Energy Physics
Track 15: Computational Material Science
Computational methods already play a central role in many materials studies and will only become more pervasive as computer power advances in the decades ahead. We are engaged in the development and application of methods to compute the atomic and electronic structure of materials. Recent applications include materials for electronic applications, nano-electromechanics and energy. We are also leveraging new developments in statistics and machine learning to understand complex simulations and accelerate the design of materials.
Programmable materials
Material properties database
Multiresolution analysis
Quantum materials
High-dimensional computation
Track 16: Mining and Metallurgy
Material science plays a significant role in metallurgy. Powder metallurgy is a term that covers varied methodologies in which materials or components are made from metal powders. The metal removal processes can be avoided to decrease the costs. Pyro-metallurgy embraces thermal treatment of minerals and metallurgical ores and concentrates to bring about physical and chemical transformations in the materials to allow retrieval of valued metals. A broad data of metallurgy can support us to extract the metal in a more possible manner. The extraction of valuable minerals or other geological materials from the earth is called as Mining and Metallurgy is the field of Materials Science that deals with physical and chemical nature of the metallic & intermetallic compounds and alloys. Diverse methods and skills used in the extraction and production of various metals are extractions of metals from ores, purification; Metal Casting Technology, plating, spraying, etc. in the series of processes, the metal is subjected to thermogenic and cryogenic conditions to analyses the corrosion, strength & toughness of the metal.
Surface Engineering and Coatings
Modelling, Analysis and Simulation of Manufacturing Processes
Materials Forming and Machining
Mechanical Behaviour and Fracture
Tooling, Testing and Evaluation of Machining
High-speed/Precision Machining
Laser Processing
Track 17: Polymer Science and Soft Materials
The research in fundamental and applied science of polymers, soft materials and polymer based Nanocomposites is dedicated to Polymeric and soft materials section. Three different groups are working under this section on multiple aspects of material science and nanotechnology with reference to polymeric materials. Soft Materials & Polymers include Polymer fibres, and hydrogels, Polymer gels, Antibody-polymer interactions and composites.
Nanotechnology in Polymers
Polymer Science and Engineering
Conjugated-Controlled Compound
Polymer photochemistry
Reaction Kinetics
Immunoassay
Track 18: Catalytic materials
It has been said that everything is a catalyst for something. Although profound, the statement is not very useful unless materials are organized into groups with common explained with theories or models, and systematized into patterns from which new catalysts may be predicted. In this chapter, we examine common types of catalytic materials, current theories underlining their mode of action, and activity patterns useful in design. Much of this is brief by necessity, but the interested reader will find sufficient references for further study. For the casual reader, this chapter illustrates the complex background in catalysis and testifies to the current attempts to lift catalysis from an "art" to a "science."
Advanced synthesis, Catalytic systems and new catalysts
Catalysis Energy and Applications
Catalysis and Nanotechnology
Catalysis and Zeolites
Catalysis for renewable sources
Catalytic Process Engineering
Track 19: Green Materials
Green materials are defined as materials that are non-toxic, improve health, lower cost, and conserve energy and water use and waste products. Green materials are built from the field of green chemistry where the utilization of principles to decrease or eliminate hazardous substances in the process of design, manufacture and application of chemical products. Research in green materials looks to develop alternatives to traditional materials or processes that offer an environmental advantage. The attention of Green Materials relates to polymers and materials, with an emphasis on reducing the use of hazardous substances in the process of design, manufacture and application of products. Green materials are the materials that have low embedded energy in their harvesting or collection, production, transportation and use.
Green Buildings, Green Architecture and Green Engineering
Green Nanotechnology
Green Economy
Environmental Chemistry and Pollution Control
Global Warming and Bioremediation
Biomass and its Conversion
Life Cycle Assessment & Environmental Sustainability
Green Analytical Techniques
Green Catalysis & Biocatalysts
Trends in Green Chemistry
Market Analysis
Market Analysis
Materials Science Week 2019
Theme: "Peering deep into Materials with technological engineering"
Summary:
Materials science is advancing day by day. Millions of chemical and material combinations create challenges for scientists when applying them to real-world applications that consumers touch every day. Considering the growth and the latest researches in materials science and keeping them in check amidst a large amount of industries is a daunting work. Since the industrial age of mankind, material use and processing are the soul factors which were the main driving forces of development and prosperity for the civilisation. For centuries materials developed mainly in the fields of ceramics, metallurgy and glass. More recently an increasingly wide and complex range of different advanced materials, production processes, and integrated functional systems have emerged.
Materials science and engineering drastically intensified in the 1960s, when applications of materials became increasingly based on scientific principles rather than the empiricism that prevailed prior to World War II. Materials science and engineering today can be described as 'the study of substances from which something else is made or can be made and the synthesis, properties, and applications of these substances. This definition covers both natural, traditional materials as well as synthetic, designed materials.
By recognizing the importance of this subject, Euroscicon and Organizing Committee of Materials Science Conferences are pleased to invite all of you to the 2nd Edition of International Materials Science and Engineering Week during September 9-10, 2019 in Sydney, Australia with the theme: "Peering deep into Materials with technological engineering" that will cover the wide range of topics from Materials Science, Nanotechnology and Applied Chemistry and Physics.
Scope & Importance
Since the 1970s there has been an unprecedented expansion in the number of advanced materials, novel production processes, and devices that have entered many aspects of human life. These advanced materials, which form a basis of the modern high technology, include:
Material Science and engineering
Smart Materials and Sustainable Technologies
Nano Materials and Nanotechnology
Advanced Materials and Devices
Energy Materials and Fuel cells
Crystallography and Spectroscopy
Carbon Materials and structures
Nuclear Materials and Radiation
Bio Materials and Bio Sensors
Ceramics and Composite materials
Optical Materials
Electronic and Magnetic Materials
Computational Material Science
Mining and Metallurgy
Polymer Science and Soft Materials
Catalytic materials
Green Materials
Many of these have been successfully adopted by the markets and are now utilized in a range of industries and the urban living environment. Examples are encountered daily in the areas of health, communication, consumer goods and transportation. According to the Max Planck Institute of Materials Research, 'Materials science plays a key role as one of the main pillars of economic progress and social well-being in Europe and, indeed, the world as a whole.
Why Sydney, Australia?
Sydney, the capital of New South Wales, Australia. It is Australia's oldest and largest city with a population of around 4 million. Sydney is built around a huge harbour and hosts many tourist attractions as well as a number of beaches, bays and a couple of national parks.
History
Sydney was first visited by the British in 1770 when Captain James Cook and Joseph Banks sailed the Endeavour into Botany Bay. The First Fleet arrived at Botany Bay in 1788 under the command of Governor Arthur Phillip.
Phillip but found Botany Bay unsatisfactory and sailed north and landed at Sydney Cove on Sydney Harbour. Phillip originally named the colony 'New Albion', but then the colony acquired the name 'Sydney', after the British Home Secretary, Thomas Townshend, Lord Sydney.
Sydney has many influences upon its style. Aboriginal sites and engravings can still be seen from the original occupiers, the Eora tribe. The city also has an Anglo-Mediterranean style and a growing Chinese and Asian influence.
The City
Sydney is spectacularly draped around its glorious harbour and beaches and has visual factors like few other cities. Scratch the surface and it only gets better. There are hundreds of manmade and natural sights throughout the city with breathtaking architecture and natural miracles to visit. A wide range of natural parks, aquariums and beaches will make it worth your while.
Food and Accommodation
With an abundance of fresh produce, great seafood and multicultural influences, Sydney's restaurants and cafés cater to a range of tastes and budgets. You'll find plenty of accommodation choices, too.
Growth and Economy
The City of Sydney local area covers approximately 26.15 square kilometres, within the Sydney metropolitan region. Over the past decade, the City has become the largest and fastest growing local government area in all of NSW.
Sydney is the financial and business services hub of Australia. It also has a concentration of jobs within the multimedia and communications industries, tourism, hospitality and cultural industries. Based on industry mix and relative occupational wage levels it is estimated that economic activity (GDP) generated in the city in 2015/16 was approximately $118 billion, representing over seven per cent of the total national economy in Australia, over 30 per cent of the Sydney metropolitan economy and over 20 per cent of the entire GDP for NSW. In 2012, there were over 21,500 separate business establishments located within the city. A large number of the top 500 companies in Australia are located in the city from the 41 per cent that are located in NSW alone. On an average weekday in 2012,437,000 people worked in our local area– 22 per cent in the finance and financial services sector and nearly 18 per cent in professional and business services.
Climate
A temperate climate makes Sydney spectacular at any time of the year. Walk in pretty parks and gardens, stroll along beaches, and marvel at Australia's unique native animals and marine life at Taronga Zoo and SEA LIFE Sydney Aquarium year round.
Why attend?
Materials Science Week 2019 was an enchanted achievement. We give the incredible credits to the Organizing Committee and participants of Materials Science Week 2019 Conference. Numerous tributes from our participants bolstered us and their sincere devotion to the developments in the field of Materials Science and Nanotechnology made it an incredible occasion. We take this as a stage to thank all our captivated Materials Scientists and Student specialists.
In this mind-boggling fulfilment, Euroscicon feels regarded to mean the following Materials Science Week 2019 gathering, the 2nd Edition of International Materials Science and Engineering Week amid September 09-10, 2019 in Sydney, Australia with the topic: "Peering deep into Materials with technological engineering".
Is it accurate to say that you are looking for a frequent, where you can investigate the strategies and hypotheses of Materials Science..??? Here is your stop… Materials Science Week 2019 is the commendable meeting for the materials scientists and students where you can examine and learn new procedures that are going on the planet. What's more, we guarantee you that, Materials Science Week 2019 will be the best place to meet the Eminent Researchers of Materials Science. Also, Atlanta is the crowded visitor put where you can give your family an awesome tourism encounter
Target Audience
Eminent Scientists from Materials Science
Material Science Research Professors
Junior/Senior research fellows from Universities
Directors of companies of Science and Technologies
Members of different Materials science associations
Top Managers (CEOs, CMOs, Vice-Presidents, Directors, GMs)
Practitioners (Brand Specialists, Heads of Marketing)
PhD students
MBA/ M.Sc. Student
Global market at a glance
The global market is estimated to reach $11,000 million by 2020 and register a CAGR of 12.6% between 2016 and 2022 in terms of value. The growth in market is estimated to be driven by the increasing demand for aerogel materials from oil & gas and construction applications. The North American region remains the largest market, followed by Asia-Pacific. The Europe market is estimated to be growth at a steady rate due to economic recovery in the region along with the increasing concern for the building insulation and energy savings. The U.S. Bureau of Labour Statistics (BLS) produces annual wage estimates for more than 900 individual occupations. Newly released figures for 2012 put BLS Code 19-2032 (an occupational group encompassing materials scientists) in 82nd place in yearly wages. The group, which includes 7,970 employees across the country, posted an average annual salary of $89,740.
Scientific's index of countries' ability to take advantage of emerging technologies indicates that the US, Germany, Taiwan and Japan have the combination of academic excellence, technology-hungry companies, skilled workforces and the availability of early stage capital to ensure effective technology transfer. Corporate research and private funding were thought to have surpassed government funding figures as far back as 2004. But China will spend US$2.50 billion in nanotechnology research while the US will spend US$2.26 billion. In real dollar terms, adjusted for currency exchange rates, China is only spending about US$1.8 billion to the US's $2.26 billion. US have invested $2.46 billion while China has allotted $2.2 billion.
The global market for biomaterials is estimated at $44.0 billion in 2012 and is poised to grow at a CAGR of 15% from 2012 to 2017 to reach $88.4 billion by 2017. The biomaterial polymers market is expected to show the highest growth at a CAGR of 22.1% (2012-2017) due to tremendous ongoing research for the development of biodegradable and bio-compatible polymeric biomaterial and its use in a wide range of applications.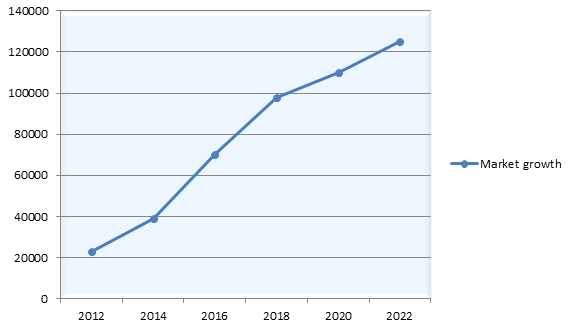 Transparency Market Research's new market report, titled 'High Performance Alloys Market - Global Industry Analysis, Size, Share, Growth, Trends and Forecast, 2014 - 2020', provides a detailed description of the high performance alloys market in terms of revenue (US$ million) and volume share (kilo tons) for the forecast period 2012-2022. According to the analysis stated in the report, the global high performance alloys market is expected to rise and reach US$11.03 billion by 2022, from a value of US$6.82 billion in 2013. The report analyses the market with respect to various segments along with the growth opportunities expected in the next six years. In terms of volume, the market stood at 1,110.7 kilo tons in 2013. Overall, the market is expanding at a steady CAGR of 4.5% during he forecast period from 2014 to 2022.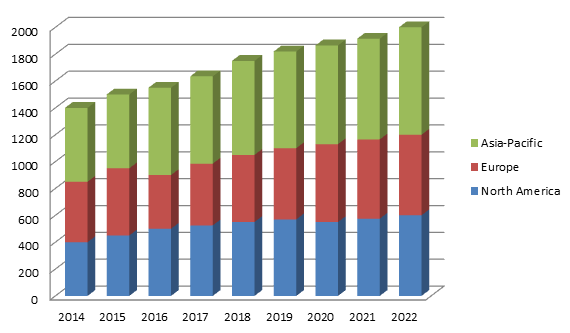 Learn More
RELATED CONFERENCES
2nd International Materials Technology Conferences |September 09-10, 2019 | Moscow, Russia;
International Magnetism Conferences | November 01-02, 2018 | Paris, France;
European Mechatronics Conferences | Nov 26-27, 2018 | Prague, Czech Republic;
22nd International Advanced Materials Conferences | Dec 10-12, 2018 | Rome, Italy;
8th International Smart Materials Conferences | August 01-02, 2019 | Dublin, Ireland;
18th International Materials Science and Nanotechnology Conferences | January 28-29, 2019 | Barcelona, Spain;
4th International Crystallography conferences | April 25-26, 2019 | Rome, Italy;
International Materials Science & Technology Conferences | June 04-06, 2019 | Paris, France;
5th International Polymer Science Conferences | June 10-11, 2019 | Berlin, Germany;
World Natural Resources Conferences | November 12-13, 2018 | Athens, Greece;
EuroSciCon 3D Printing Conferences | August 05-06, 2019 | Paris, France;
International Energy Science Conferences | October 07-09, 2019 | Osaka, Japan;
18th International Materials Science Conferences | January 28-29, 2019 | Barcelona, Spain;
International Magnetic Materials Conferences | November 01-02, 2018 | Paris, France;
2nd International Manufacturing Conferences |September 09-10, 2019 | Moscow, Russia;
4th International Electrochemistry Conferences | October 1-2, 2018 | London, UK;
World Petroleum Engineering Conferences | November 12-13, 2018 | Athens, Greece;
International Biofuels Conferences | November 12- 13, 2018 | Athens, Greece
EuroSciCon Biochemical Conferences | November 19-20 , 2018 | Prague, Czech Republic;
14th EuroSciCon Chemistry Research Conferences | December 06-07, 2018 | Amsterdam, Netherlands;
21st International Green Chemistry Conferences | November 12-13, 2018 | Edinburgh Scotland;
EuroSciCon Physical Chemistry Conferences Oct 08-09, 2018 | Amsterdam, Netherlands;
EuroSciCon Chemical Engineering Conferences | November 19-20 , 2018 | Prague, Czech Republic;
International Bioenergy Conferences| November 12- 13, 2018 | Athens, Greece
World Chromatography Conferences | Oct 31-Nov 01, 2018 | Budapest, Hungary;
10th International Analytical Chemistry Conferences | February 28-March 01, 2019 | London, UK;
Global Medicinal Chemistry Conferences | March 25-26, 2019 | Budapest, Hungary;
World Mass Spectroscopy Conferences | Oct 31-Nov 01, 2018 | Budapest, Hungary;
19th EuroSciCon Nanotechnology Conferences | Oct 04-06, 2018 | Amsterdam, Netherlands;
International Biomaterials Conferences | December 03-04, 2018 | Amsterdam, Netherlands;
2nd Euroscicon Nano Biotechnology Conferences | March 07-08, 2019 | Amsterdam, Netherlands;
International Tissue Engineering Conferences | December 03-04, 2018 | Amsterdam, Netherlands;
EuroSciCon Graphene Conferences | Nov 25-27, 2019 | Tokyo, Japan;
EuroSciCon Advanced Nanotechnology Conferences | April 22-23, 2019 | Athens, Greece;
ESB 2019 | Jul 07-10 2019 | Vienna, Austria;
5th World Computational Materials Engineering Conferences | Jul 21-25 2019 | Indianapolis, United States;
11th International Porous Metals and Metallic Foams Conferences | Aug 20-23 2019 | Dearborn, United States;
2nd International Materials Science Conferences 2019 | Sep 26-28 2019 | Frankfurt am Main, Germany;
9th International Computational Methods Conferences | May 22-24 2019 | Lisbon, Portugal;
Nature-Inspired Engineering | Sep 8-13, 2019 | Cetraro, Italy;
5th International Sustainable Construction Materials Conferences | Jul 14-17 2019 | Kingston, UK;
2019 International Materials Science Conferences | Nov 13-14 2019 | Paris, France;
2nd International Building Materials Conferences | Sep 26-28 2019| Lisbon, Portugal;
2nd International Magnetism Conferences| Sep 24-26 2019 | Budapest, Hungary;
Material Science Universities in Europe:
University of Cambridge | University of Oxford | Ecole Polytechnique Fédérale de Lausanne (EPFL) | Imperial College London | ETH Zurich - Swiss Federal Institute of Technology | Delft University of Technology | RWTH Aachen University | The University of Manchester | KTH Royal Institute of Technology | KIT, Karlsruhe Institute of Technology | Chalmers University of Technology | Institut polytechnique de Grenoble - Grenoble Institute of Technology | KU Leuven | Politecnico di Milano | Technical University of Denmark | Technische Universität Berlin (TU Berlin) | Technische Universität Dresden | Technical University of Munich | Technische Universität Dresden | Technical University of Munich | UCL (University College London) | University of Birmingham | Aalto University | University of Liverpool | University of Southampton | Uppsala University | Norwegian University of Science And Technology | Politécnica de Madrid | Queen Mary University of London | Sapienza University of Rome | Vienna University of Technology | Trinity College Dublin | Università di Padova | Norwegian University of Science And Technology | Politécnica de Madrid | Queen Mary University of London | Sapienza University of Rome | Vienna University of Technology | Universitat Politècnica de Catalunya | University of Liverpool | University of Southampton | Uppsala University | Trinity College Dublin, The University of Dublin | Università di Padova | Alma Mater Studiorum - University of Bologna | Universitat Politècnica de Catalunya | Université Grenoble-Alpes | University of Antwerp | The University of Edinburgh | Ghent University | University of Helsinki | University of St Andrews | Utrecht University | Cranfield University |
Material Science Universities in USA:
Massachusetts Institute of Technology (MIT) | Stanford University | University of California, Berkeley (UCB) | Harvard University | Northwestern University | Georgia Institute of Technology | University of California, Los Angeles (UCLA) | University of Illinois at Urbana-Champaign | California Institute of Technology (Caltech) | University of Texas at Austin | University of California, Santa Barbara (UCSB) | Cornell University | Carnegie Mellon University | University of Michigan | Pennsylvania State University | Purdue University | University of Pennsylvania | Rice University | Brown University | Case Western Reserve University | Columbia University | Duke University | Johns Hopkins University | North Carolina State University | The Ohio State University | Princeton University | Rensselaer Polytechnic Institute | Texas A&M University | University of California, Davis | University of California, San Diego (UCSD) | University of Florida | University of Minnesota | University of Washington | University of Wisconsin-Madison | Yale University | Boston University | Michigan State University | Rutgers University - New Brunswick | University of Colorado Boulder | University of Maryland, College Park | University of Massachusetts Amherst | University of Pittsburgh | University of Southern California | The University of Tennessee, Knoxville | Virginia Polytechnic Institute and State University | Colorado School of Mines | Drexel University | Iowa State University | University of Delaware | University of Illinois, Chicago (UIC) | University of North Carolina, Chapel Hill | University of Notre Dame | University of Texas Dallas |
Material Science Universities in Asia:
Nanyang Technological University, Singapore (NTU) | National University of Singapore (NUS) | Tsinghua University | KAIST - Korea Advanced Institute of Science & Technology | The University of Tokyo | Peking University | Seoul National University | Tohoku University | The Hong Kong University of Science and Technology | Fudan University | Kyoto University | Kyoto University | Tokyo Institute of Technology | Pohang University of Science And Technology (POSTECH) | Sungkyunkwan University (SKKU) | National Taiwan University (NTU) | Osaka University | University of Science and Technology of China | Beijing Institute of Technology | City University of Hong Kong | Hanyang University | Harbin Institute of Technology | Hokkaido University | Indian Institute of Science (IISc) Bangalore | Indian Institute of Technology Bombay (IITB) | Indian Institute of Technology Madras (IITM) | Korea University | Kyushu University | Nagoya University | Nanjing University | National Chiao Tung University | The Chinese University of Hong Kong (CUHK) | The University of Hong Kong | Yonsei University | Zhejiang University | Beihang University (former BUAA) | East China University of Science and Technology | Huazhong University of Science and Technology | Indian Institute of Technology Kanpur (IITK) | Indian Institute of Technology Kharagpur (IIT-KGP) | National Cheng Kung University (NCKU) | National Taiwan University of Science and Technology (Taiwan Tech) | Technion - Israel Institute of Technology | Universiti Malaya (UM) | Universiti Sains Malaysia (USM) | University of Science and Technology Beijing | Waseda University | Wuhan University | Xiamen University | Xi'an Jiaotong University | Beijing University of Chemical Technology | Chulalongkorn University
Material Science Journals:
Material Science Societies and Associations:
American Indian Council of Architects and Engineers | American Indian Science and Engineering Society | American Institute of Chemical Engineers | American Nuclear Society | American Society for Engineering Education | American Society of Mechanical Engineers | The Materials Research Society (MRS) | ASTM International (formerly American Society for Testing and Materials) | Institute of Materials, Minerals and Mining (IOM3) | Society for the Advancement of Material and Process Engineering (SAMPE) |American Chemical Society (ACS) | American Physical Society (APS) | The Materials Information Society (ASM International) | Microscopy Society of America (MSA) | The Minerals, Metals & Materials Society (TMS) | Association for Computing Machinery | Chi Epsilon | Engineering Society of Buffalo | Institute of Electrical and Electronics Engineers | Institute of Industrial and Systems Engineers | Ensilica's Industry Associations |Nanotechnology Industry Association | The American Ceramic Society | International Union of Pure and Applied Physics (IUPAP) | Federation of European Materials Societies (FEMS) |National Society of Professional Engineers | International Association of Advanced Materials | Association for Iron & Steel Technology (AIST) | World Coal Association | European Carbon Association | The Carbon Capture & Storage Association (CCSA) | Semiconductor Industry Association | Korea Semiconductor industry Association (KSIA) | Society for the Advancement of Material and Process Engineering | Society of American Military Engineers |Sigma Xi: The Scientific Research Society | International Society for Optical Engineering (SPIE) |Taiwan Semiconductor industry Association | Singapore Semiconductor Industry | The Graphene Council | International Association of Advanced materials | India Electronics and semiconductor Association | Institute of Cast Metals Engineers | Asia Pacific Society for Materials Research (APSMR) |Graphene Stakeholders Association | Alpha Omega Epsilon | Alpha Pi Mu | American Academy of Environmental Engineers | American Association of Engineering Societies | American Helicopter Society | American Society for Nondestructive Testing | American Welding Society | Architectural Engineering Institute | ASM International | Society of Automotive Engineers | Society of Manufacturing Engineers | Society of Naval Architects and Marine Engineers | Tire Society
Materials Technology and Manufacturing Innovations Companies in Europe:
AQUANOVA AG | Bio Nano consulting | Gemini Israel Ventures | Cambridge Display Technology| Aquamarijn micro filtration | Materials Science 2018 | ASM International | DSM somos | HQ grapheme | Materials Science Conferences |IME Technologies | KRIYA Materials | CPS Instruments | BASF | Zeiss | Ad-particles | Quick step Technologies | Deerac Fluidics | CS Instruments | Cordouan Technologies | Biokowski psb Industries | Advanced Magnetic Technologies & Consulting Group (AMT&C) | Concern Nanoindustry | Interface Ltd | NT-MDT | Euroscicon Conferences | 2DTECH | 3M ESPE | AHS | agar scientific | Applied graphene materials | Aquila instruments | Chained Labs | BBI solutions | Antaria Limited | Emerging Materials Science Conferences | Fluigent Smart Microfludics | Auto Car Brands | Leblog auto | Izasa scientific | Nadetech Innovations | GKN ABCR supplies Lmtd | AIXTRON | Buhler | BASF | Bio-Gate | BIONI | BYK Additives & Instruments | CCM | Arnold | Bartels| VSPC co. LTD | Materials Science Conferences | Warsash scientific | AGM Automation System Inc | AD-particles | Graphene Tech | NanoDiamond Products | Materials Science 2018 | Particular Sciences | Sampas Nanotechnology | Buhler Group | Kiss Soft | International Conferences on Materials Science | WTS Global | BR Automation| Euroscicon | Mindseeds Laboratories | Emerging Materials Science Conferences | MBN Nanomaterialia S.p.A | Linari Biomedical | Materials Science Conferences | HiQ-Nano | Directa Plus | Digisens 3D Tomography Software Solutions | Rusal | Tenaris | Mechel | Carlsberg Group | Norsk Hydro | Lanxess | DSM|Covidien | Novolipetsk Steel | Nornickel | Kering | Materials Science Conferences | SCA | Cr.E.S.T. - Crisel Electrooptical Systems Technology | Digital Surf | Marion Technologies |Russian Corporation of Nanotechnology (RCNT) |A.P.E. Research |Sandvik | Delphi Automotive | Reckitt BenckiserVoestalpine | Seagate Technology | Prysmian Group | Pernod Ricard | Euroscicon | Tyco International | AGI | Automation Components |Aveni Collaborative Centre for Applied Nanotechnology | Xenia Materials | nDure Technologies | Dolomite | Ellit Scientific solution science for research and industry | Edinburgh | Euroscicon Conferences | International Conferences on Materials Science | Instruments | Durham Magneto optics Ltd | Eurochem specialist chemicals | Biolin Scientific | Fischer Instrumentation | Addlink software scientific | Greater Zuricharea | NanoSurf | NBM | Optical Additives | PSI | Waters Smart Innovations | Tec Concept | International Conferences on Materials Science | Silexmicro Systems | PFSW |Nano Film | Gyros | Solectron | Agfa | CMI Group | Euroscicon | Materials Science Conferences | Ceramisphere Ltd | DYESOL |Emerging Materials Science Conferences | Living Cell Technologies | Micro-Bio-Nano Company | Renishaw apply innovation | International Conferences on Materials Science| AVT Services Pty Ltd | Nano Lane | Advanced Technologies Center ATC | Silicon Biosystems | Materials Science 2018 | SCRIBA Nanotechnologies| Plasma Diagnostics and Technologies| Materials Science 2018 |Organic Spintronics
Materials Technology and Manufacturing Innovations Companies in USA:
Materials Science Conferences | American Dye Source, Inc |Materials Science 2018 | Applied Nanotools Inc. | IMEMS | Advanced Diamond Solutions | AEB | Advanced Energy | Advanced optical technologies | Clemex Technologies Inc.| Cytodiagnostics Inc.| Advance Reproductions | Indigo Instruments | Euroscicon | Klean Carbon | MCH nano solutions |D-Wave Systems ADVANO | Advenira solutions| Delong America group Inc. | 3D systems | 4WAVE | A&A coatings | A Beam Technologies | Accelrys (BIOVIA) | ACS | Euroscicon Conferences| Materials | Aculon Performance and solutions | ADA Technologies,Inc | Electronics.ca Publications | Epoc Blood Analyst System | Innovative Bioceremix,Inc | Materials Science Conferences | Ade 10 Angstroms | Advance TEC | Aegis Technologies | International Conferences on Materials Science| Angstrom Engineering | MFS Technologies Ltd | Materials Science Conferences
Materials Technology and Manufacturing Innovations Companies in Asia and Middle East:
Micron | ATIP | F- Carbon | Fuji Xerox | Marubeni | Comtech Advanced | Materials Science Conferences | Amphenol | Incubation Alliance | Itochu Systech | Alpha Casting |HSRE Work | ICAM | Proteck Coating | TE Connectivity | Salzgitter AG |Atlas Copco |UPM | Novo Nordisk Merck Group | Vedanta Resources | Ingersoll Rand | NOF CORPORATION | Showa Denko | Osaka | Taisei Kogyo | Digit Link | Gobiz Korea | Lake Central | Huper optic | Euroscicon Conferences | Helios Applied Systems | Quantum | Egypt Nanotech center | Precision Type | Bugatti | Aixam | SBEC | ATKINS Group | PACIFIC COAST | FM Global | Emerging Materials Science Conferences ISAT | Euroscicon | Candc Infrastructure | Materials Science Conferences | Alien vault | Abacus next | Digital Guadian | Image Sourceinc | V-kool | Materials Science 2018 | Shida Rubber | CNC Machinings | Emerging Materials Science Conferences | Tiny Machining | MR Sourcing | BMVIT | AIT | Nanotech Enterprice | SSV | KSU | Euroscicon Conferences | Nano yo | Curiox Accelerating life Sciences | Liwei Nano |Stora Enso|Syngenta | Nanomaterials technology Interation Point |International Conferences on Materials Science| Green Prophet | Proactive Investors | Innovation Kaust |Molecular Raber Design | Society of Petroleum Engineers | Knights Security | Nanotech | United Plastic Curtiss-Wright
Materials Technology and Manufacturing Innovations Jobs in Europe:
Post-doctoral positions in R&D of High Field Superconducting Magnets for Future Particle Accelerators Careers | Post-doctoral positions in Statistical Learning Jobs | Professor of materials science jobs | Professor of Mechanical Engineering jobs | Dean of Materials science jobs | Head of Mechanical Engineering jobs | Physical Scientist – Materials Science| Senior Photonic Researcher Jobs |International Conferences on Materials Science | Materials science scientists Jobs | Aircraft Mechanical Engineer jobs |Materials Science 2018 | Industrial Engineer jobs | PhD studentship Jobs | Materials Science Conferences | Emerging Materials Science Conferences | Mechanical Designer jobs | Mechanical Engineer jobs | Operations Manager jobs | Quality Manager jobs | Materials Management jobs | Summer Jobs at the Department of Electronics and Nano engineering - Aalto University, Finland | Process Engineer (OMJ/MC) Jobs | Project Leader Jobs | Nanotechnology Careers | Manufacturing Process Engineer | Jobs Manufacturing Production Manager | Lecturer in Mechanical Engineering Jobs | Lecturer or Senior Lecturer in Materials Engineering Jobs | Production Manager jobs | Quality Control Inspector jobs| Emerging Materials Science Conferences | Senior Scientist - Dynamic Materials Response Jobs | CNC Machinist jobs | Design Engineer jobs | Product Development Scientist Jobs | Associate Principal Design Engineer Jobs | Senior Researcher Optical Elements for Augmented and Mixed Reality Jobs | Director of Materials Core Technology Jobs | R&D Materials & Nanotechnology Jobs | Professor or Assistant Professor Positions in areas of Mechanical Manufacturing Materials jobs | Materials Science Conferences |Manufacturing Researcher Jobs | Materials Science 2018 | Research Assistant in Materials science jobs | Senior - Lead Electronics Engineers - MEMS Operations Director Jobs Senior Memory Architect Jobs | Nanoparticle characterization in complex media (Leipzig, Germany) Career | Postdoc of Materials Science Jobs | Euroscicon Conferences| Emerging Materials Science Conferences | Team Leader Physical Design, Design Automation and Mask Data Preparation Careers | Manufacturing / Assembly Technician Careers
Materials Technology and Manufacturing Innovations Jobs in USA:
Assistant/Associate Materials Science Professor Jobs | Manufacturing and Characterization Fellowship Jobs – CDER | Research Specialist Jobs | Associate/Full Research Professor of Materials Research Associate Jobs | Postdoctoral Scientist Jobs | Professor of Nanoengineering Jobs | Professor of Biomaterials Jobs | Postdoctoral Research Staff Member – Mechanical Engineering Jobs |Emerging Materials Science Conferences | Conferences | Interdisciplinary Post-Doctoral Jobs | Materials Science Conferences | Senior Associate, Data Scientist – Optimization Jobs | Staff Scientist - Assay Development Careers | Assistant Professor in Mechanics and Design Jobs | NCTR-ORA Nanotechnology Core Facility Fellowship – FDA Careers | Faculty Position- Emerging Technology Jobs | Nanomaterial Research Assistant at EPA Jobs | Research Facility Manager Jobs | Polymeric Nanoparticle Formulation Careers| Materials Science 2019 | Audio Laboratory Assistant Careers | Assistant Professor/Associate Professor, Computational Fluid Dynamics Careers | Research Associate Jobs | International Conferences on Materials Science | Materials Scientist - Nanoscience Jobs | Euroscicon Conferences | Principal Scientist, Metamaterials/Metasurfaces Postdoc Jobs | Assistant/Associate Professor of Mechanical research Jobs | Euroscicon | Research Scientist/Engineer Jobs | Assistant Professor – Nanotechnology Jobs | Emerging Materials Science Conferences | Research Associate | Assistant/Associate Professor (tenure track) Revised Jobs |International Conferences on Materials Science| Staff Scientist Jobs | Materials Science 2018 | Euroscicon Conferences | Materials Science 2018 | Associate Scientist Jobs | Post-Doctoral Research Fellow Jobs | Cancers in Materials Science and Engineering | Euroscicon Conferences | Materials Science Conferences | Assistant Professor Jobs | EUV Simulations Engineer - TD Research Careers | Tenure-Track Faculty Position, Inorganic/Materials Chemistry Jobs | Photonics System Integration Engineer Jobs | Emerging Materials Science Conferences | Director, Center for High Technology Materials Jobs | Euroscicon | Instructor, Mechanical Engineering Jobs | Subject Matter Expert Scientist – Materials research Jobs | Research Scientist Jobs | Scientist / Research & Development Careers | Research Associate-Fixed Term Careers | Emerging Materials Science Conferences | Postdoctoral Scholar – Materials and Manufacturing Jobs | Materials Scientist/Engineer Jobs
Materials Technology and Manufacturing Innovations Jobs in Asia and Middle East:
Senior Firmware Engineer Jobs | Senior PCB Engineer Jobs| Motors Test and Validation Engineer Jobs | Senior Power Electronics Engineer Jobs | Postdoctoral Research Fellow Jobs | Field Support / Application Engineer Jobs | Motor Drives Engineer Careers |Emerging Materials Science Conferences |Production Manager Jobs | Materials scientist Jobs |Euroscicon Conferences| Research Fellow Jobs | Research Fellow in Prof Jens Martin research group Careers | Senior Technology Manager Jobs | Graduate Software Engineer – Motors Jobs | International Conferences on Materials Science | Senior / Principal Test Validation Engineer Jobs | Materials Science Conferences| Laboratory Executive Jobs | Research Fellow (Biochemistry) Jobs | Assistant Chemist Jobs | Euroscicon Conferences | Laboratory Director Jobs | Emerging Materials Science Conferences | Assistant Professor in Structural and Building Systems Careers | Engineering Project Handler Jobs | Scientist/Engineer, Director - Department of Chemistry Careers | Materials science Fellowship Jobs | Product Manager Mechanical Engineer Product Lifecycle Careers |Materials Science Conferences| Project Manager – Electronics Careers | Research Assistant Statistical Modeling for Nanoscience Jobs | Senior Manager Jobs | Euroscicon Conferences | International Conferences on Materials Science | Oil & Gas - Engineering Leader Jobs | Post-Doctoral Associate Jobs | Senior Motors Test and Validation Engineer Jobs | Sr. Engineer, Optics Researcher Jobs| Research Scientist – Materials
Materials Technology and Manufacturing Innovations Products:
Magnetic semiconductors |Emerging Materials Science Conferences | Precious metals | Advanced Materials | Biomaterials | Materials Science 2018 | Multiferroic oxides for multifunctional device | Ceramics | Composites | Magnetic Materials | Euroscicon | Magnetic semiconductor nanowires |Nanomaterial's | Polymers | Materials Science Conferences | International Conferences on Materials Science | Euroscicon Conferences | Intermetallic alloys for hydrogen storage